You may have encountered the following situation: when you insert the SD card into the Mac, strangely, nothing happens. You can't see it on the desktop or in the Finder. It seems your Mac is not recognizing the SD card and as a result, you can't use it as usual. Actually, you are not the only one who encounters this issue, the question is, how to fix it? After reading this post, you may find the answer.
Methods To Fix Unreadable Sd Card By Mac
Method 1: Check Finder Preferences
Since you can't see your SD card on Mac, the first thing you can check is the computer setting. By default, the Mac will automatically show up all detected storage media on the desktop and in the Finder. How to make sure the setting is well-behaved?
Step 1: Go to Finder > Preferences > General, make sure the "External disks" option is ticked. This will make the SD card show up on the Desktop.
Step 2: Select the Sidebar tab on the top, make sure the External disks option under Locations is also checked.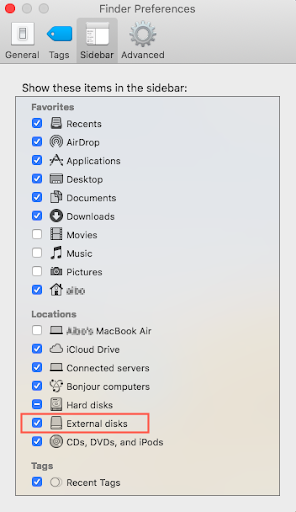 Method 2: Restart Your Mac
A simple restart can fix many computer issues, including Mac not booting up, external hard drives not showing up, and Mac not reading the SD card. Therefore, you can first disconnect your SD card with the computer, then shut the Mac down. Just leave your computer for a few minutes and try connecting your SD card again.
Method 3: Check The Sd Card Reader
Some Mac models have the SD card slot while some don't. If not, an SD card usually is equipped with a card reader to be connected with your Mac. Hence, it can be the faulty card reader, be it the built-in slot or an external one, that leads your SD card unreadable. You can follow these steps to check if the SD card reader is recognized or not.
Step 1: Simply click Apple Menu > About This Mac > System Report.
Step 2: Find Card Reader under the Hardware list.
If the card reader is recognized, you can see its Vendor ID, Serial Number, and some other product information. When your SD card is inserted, it should also be listed at the right with specifications.
One more possibility is the card reader is unrecognized, in this case, you can get help in the local Apple store if the built-in slot is wrong. Or, you can replace the previous SD card reader with a new one.
Method 4: Check If The Sd Card Is Write-Protected
It's a case that many people may ignore, that is the SD card is write-protected. If your SD card is locked, you are unable to make modifications to it. To make it workable again, you should safely eject the card and then switch the lock up to unlock it. After that you can reinsert it, hopefully, you can access it now.
Method 5: Repair The Sd Card If It's Corrupted
If the above solutions don't work for you, perhaps your SD card is corrupted due to some reason. It could be a malicious attack, virus, and daily wear and tear. Lucky you, Apple has a built-in tool, First Aid, that aims to check and repair disk errors. Here's how you use it:
Step 1: Go to Applications > Utilities > Disk Utility.
Step 2: Select the corrupted SD card and click "First Aid" on the top.
Step 3: Wait until the reparation process is finished.
You Will Also Love To Lear About: List Of Top 10 Gadgets To Help During Work From Home
Conclusion
Apart from the mentioned methods, there are actually more feasible ones, such as resetting NVRAM, mounting your SD card in Disk Utility, and even formatting your SD card. Though you may find solutions to fix SD card not reading by Mac, what's more important is to take care of it in daily use and always remember to back up your data.