With the blessing of modern app development, today job searching is not hard as before. You don't need to gather different newspapers for job vacancy announcements anymore if you have a smartphone. Using a nice job search app in your phone, you can get to know about all the available jobs that match your skills and experiences easily and efficiently. But, the question is that what are the best job search apps to start with?
Let's find out …
The Best Job Search Apps To Get Your Dream Job?
If you take a look at the Google Play and the App Store and search for job search apps, you'll find a bunch of apps. But when you don't know which one could be suitable for yourself, then it seems really tough and boring testing all of them one by one. So, to make it easy for you here we have listed the top 3 best job search apps for job seekers to find their desired jobs easily and efficiently.
We have made this list considering a few important facts – usability, user interface, design, and availability. All these 3 apps are quite good, simple, easy to use, nice design, available in different countries, and offering brilliant features. These apps will allow you to search for your dream job straight from your phone at any time from anywhere.
So, now, let's have a look at the apps below.
Naukri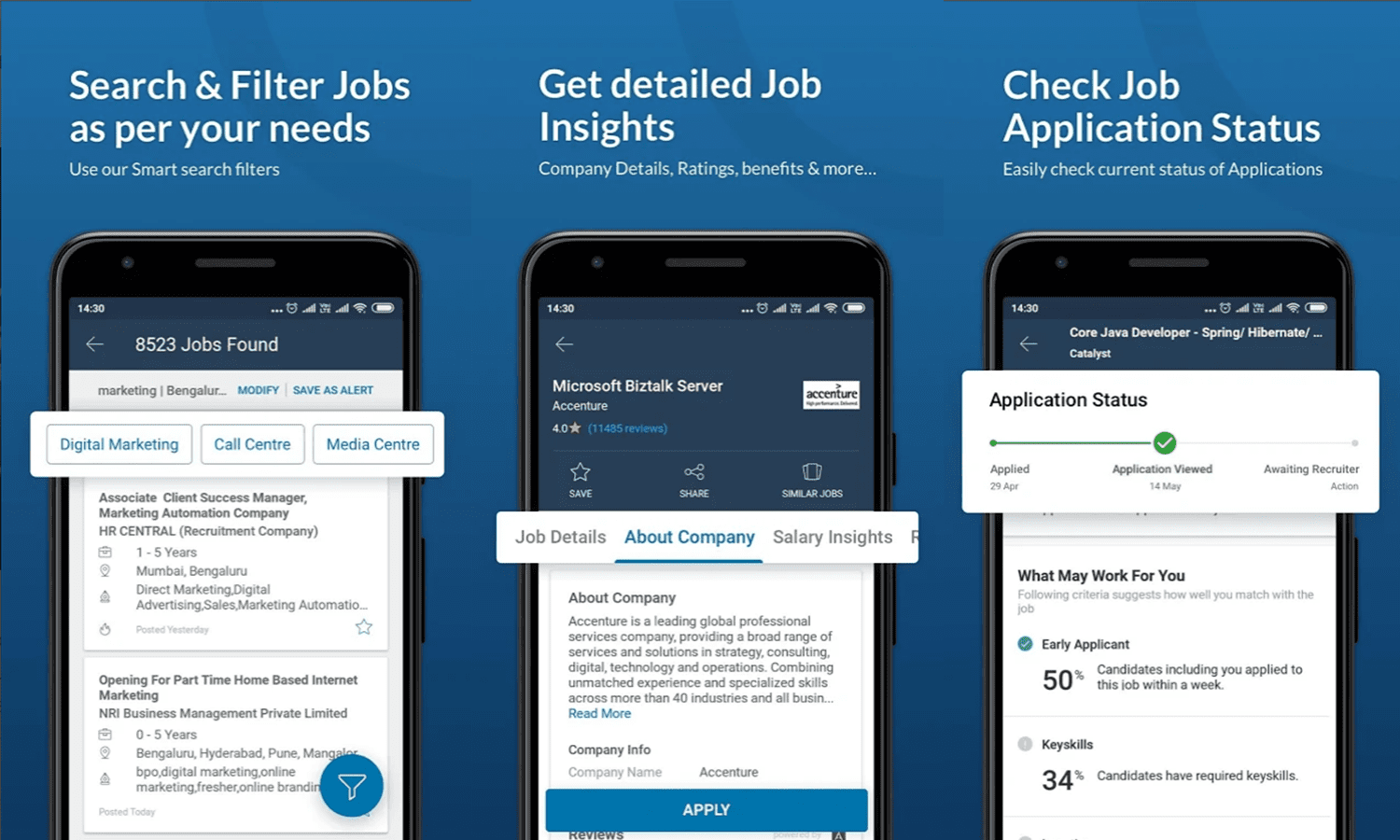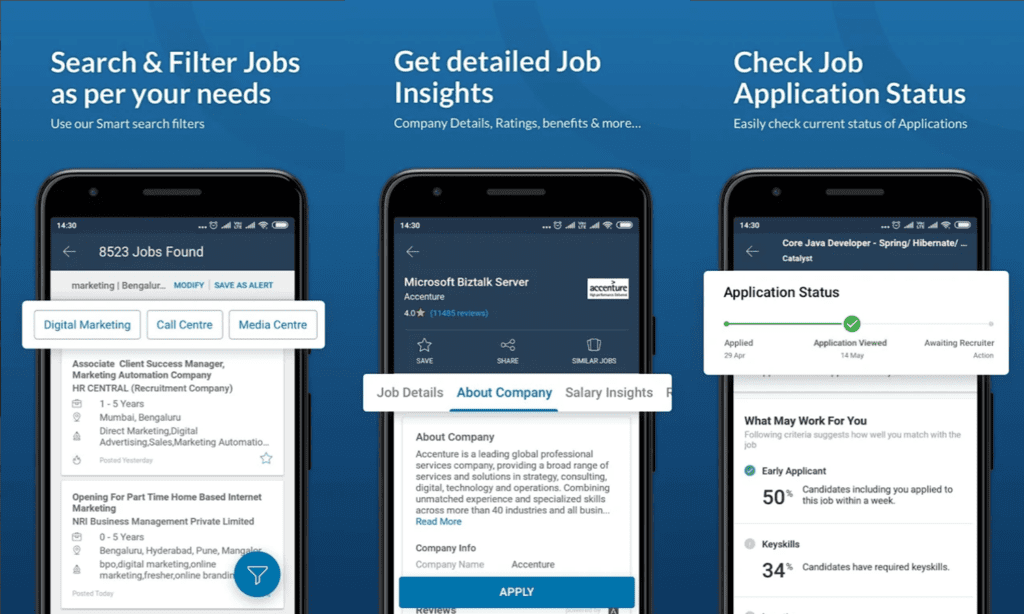 If you looking for jobs especially in India, Naukri is the most suitable app for you to try first. Because, this is the most popular job search platform in India, offering a customized job search experience across all industries, locations, functions, and experience levels for graduates, post-graduates, newbies, and professionals.
You'll love to know that more than 50 lac job seekers use Naukri to discover the latest job vacancies and connect with millions of job seekers. Definitely a hassle-free job search app to find the latest job vacancies that match your profile.
StaffMerge – Connect. Merge. Work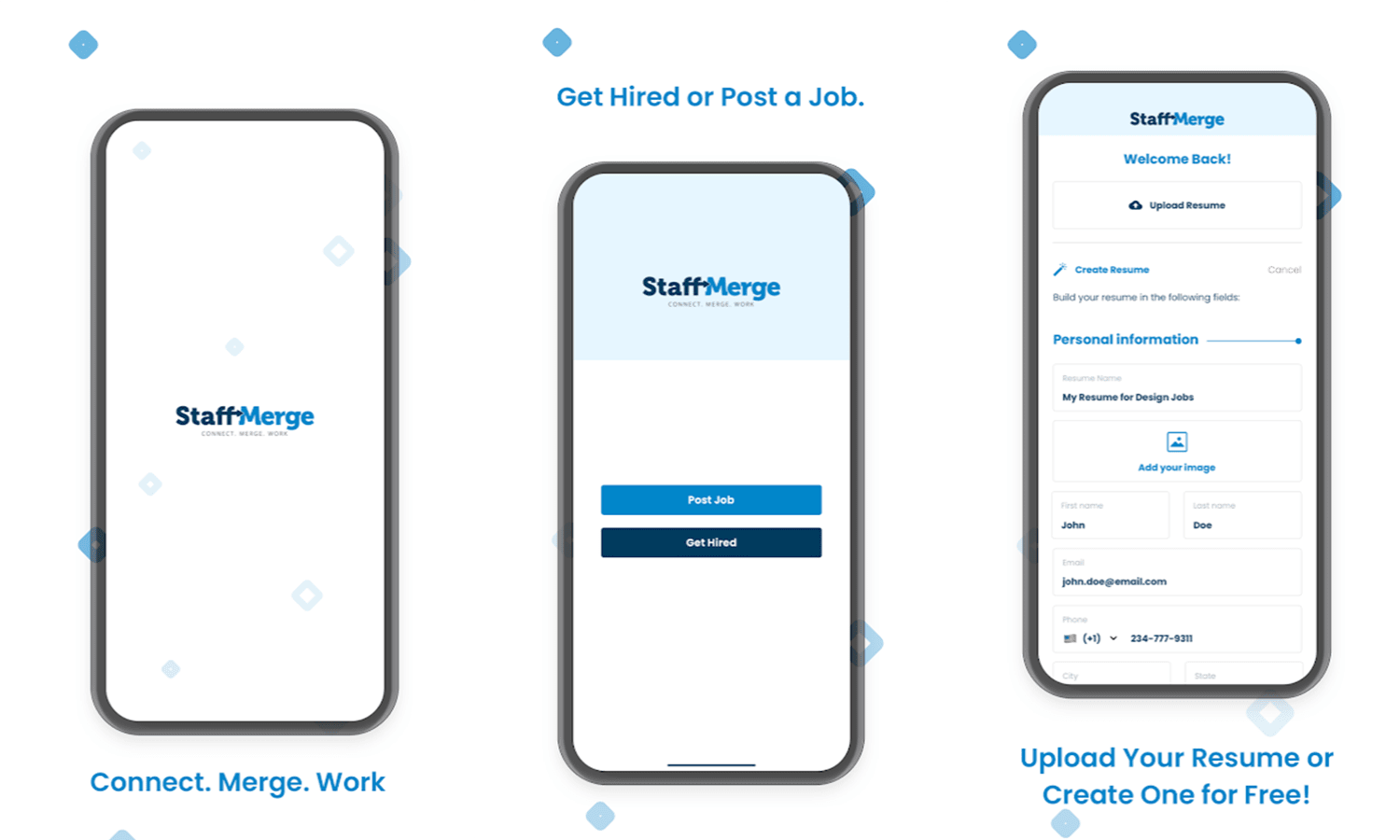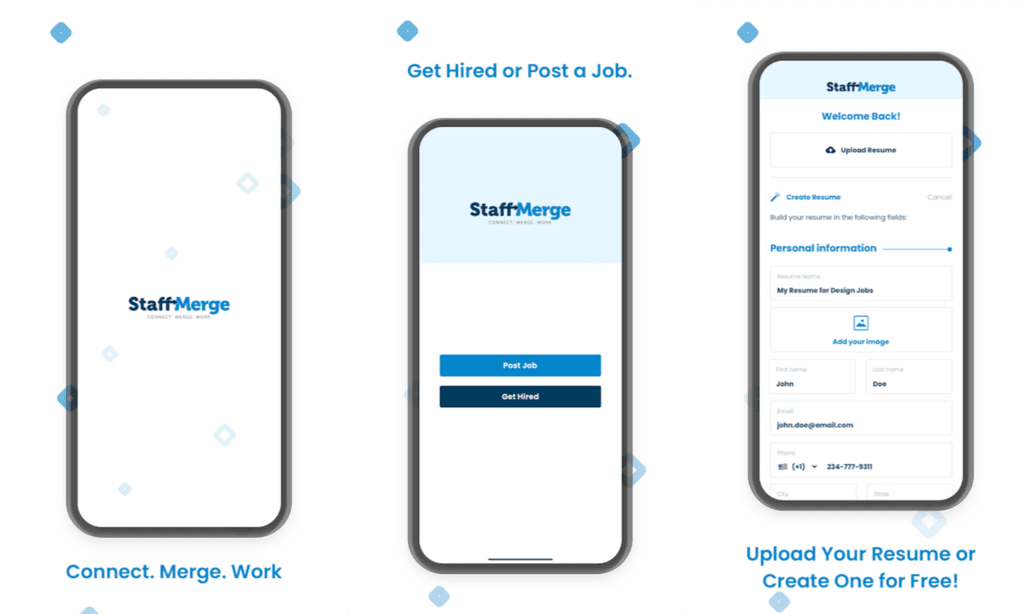 StaffMerge is a brilliant job searching platform that starting its journey recently. Its' app contains all the essential features you need to find your job. Because, the aim of StaffMerge is to connect employers with job seekers from more than 30 countries in an easy, effective, and efficient way. With normal resumes, video Interviews, direct messages, and video introductions it was never been easier to connect and merge employers and job seekers.
As a job seeker, just create your profile, upload your resume, or create a new one taking a few minutes, then search for the jobs according to your skills and experience, and apply. Once you'll get connected and merged with an Employer, start working. Simply one of the best job search apps! Simple yet effective – just connect, merge, and work!
LinkedIn Job Search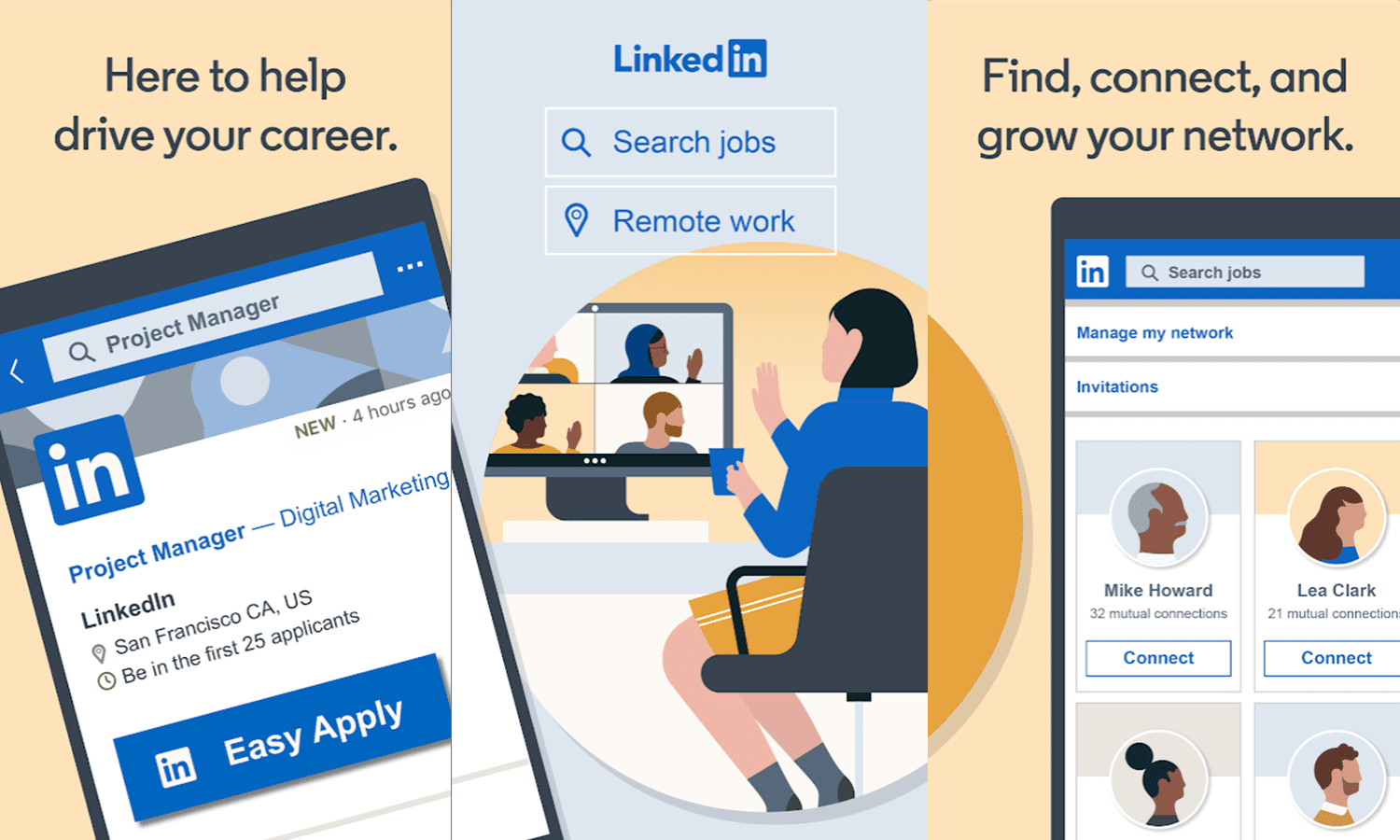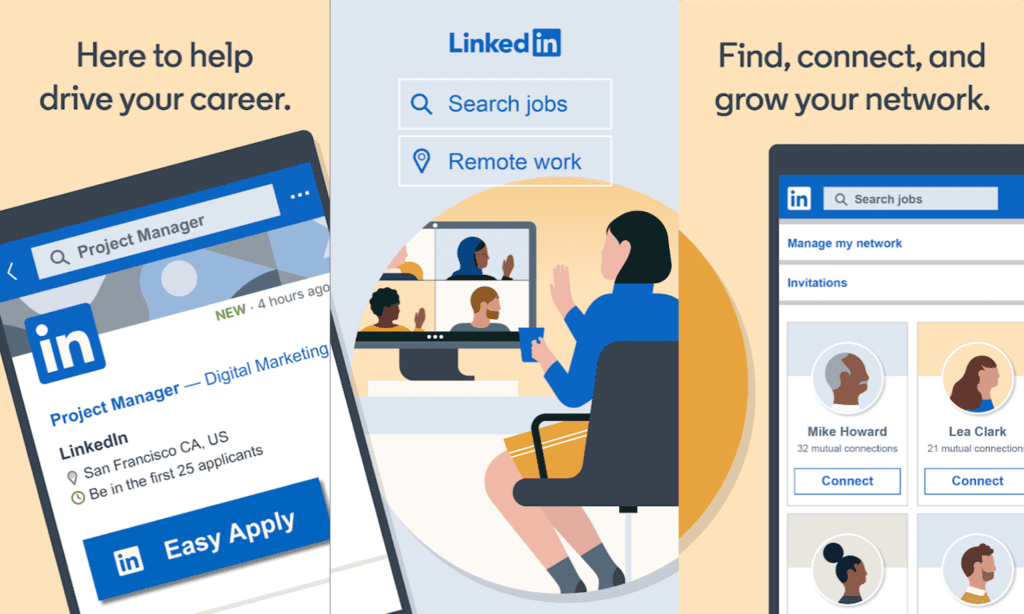 The second one is LinkedIn, which is not only a popular social network but also a very powerful job search platform. Comparing with other job search platform, the success rate of finding desirable jobs in LinkedIn is very high. To start with it, create your profile, set your profile as "open to job opportunities, and set up the job-search alert. Once you are with this, LinkedIn will instantly send notification to your InMail Box about all the job announcements and posts according to your criteria.
You can also search through roles filtered by job title, pay grade, or company if you want more advanced search. But if you are looking for even more information like salary insights and how you compare to other applicants, then go for the Premium subscription which you can use for completely free for the first month. Overall, LinkedIn is a must-try application undoubtedly when it comes to an ideal job hunting.
Indeed Job Search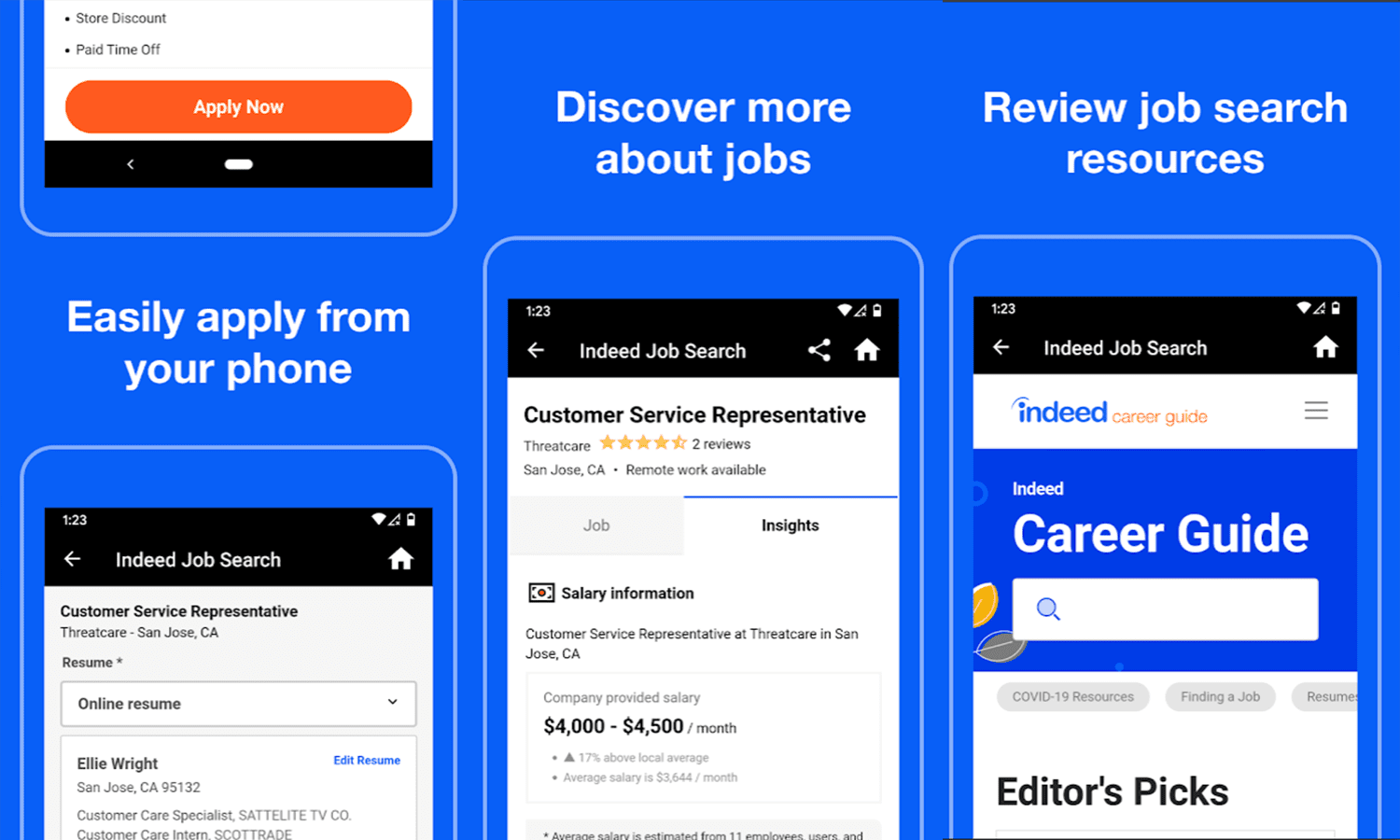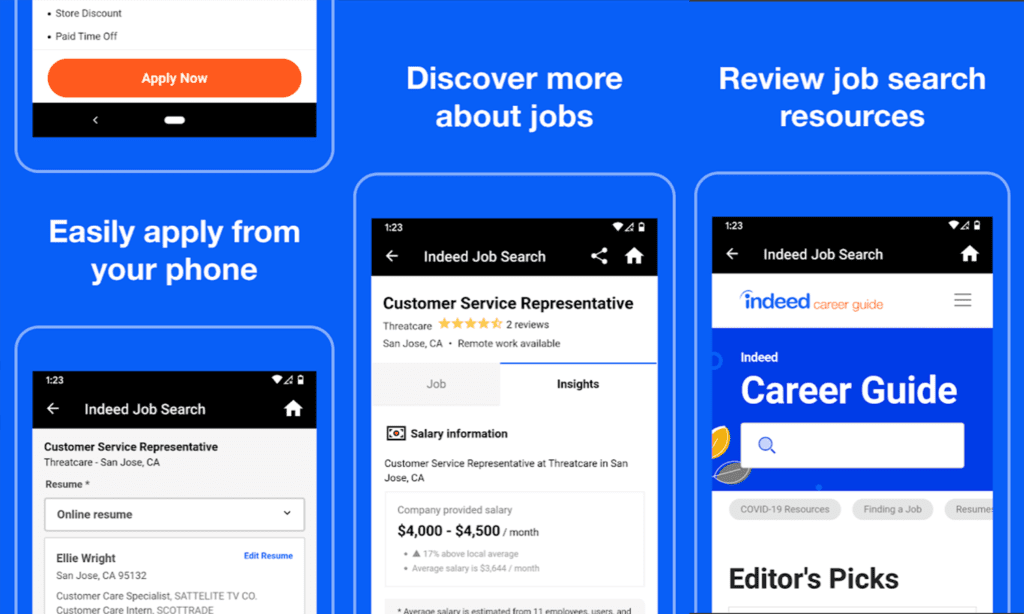 Our last pick is Indeed — a well-known, already popular job searching app with a 16 million-strong database of jobs across 60 countries and 28 languages. Really amazing! You can use its app for free, available for both Android and IOS.
Indeed is also super easy to use, allows you to upload your resume and apply to jobs with a few clicks within a few minutes. For finding a job nearby, you can search by keywords, your present location, or filter down by role, permanence, hours/pay grade, and other possible criteria you need. Once you find a suitable job then apply to that directly from your phone. A great job search app indeed that's worth a shot.
CareerBuilder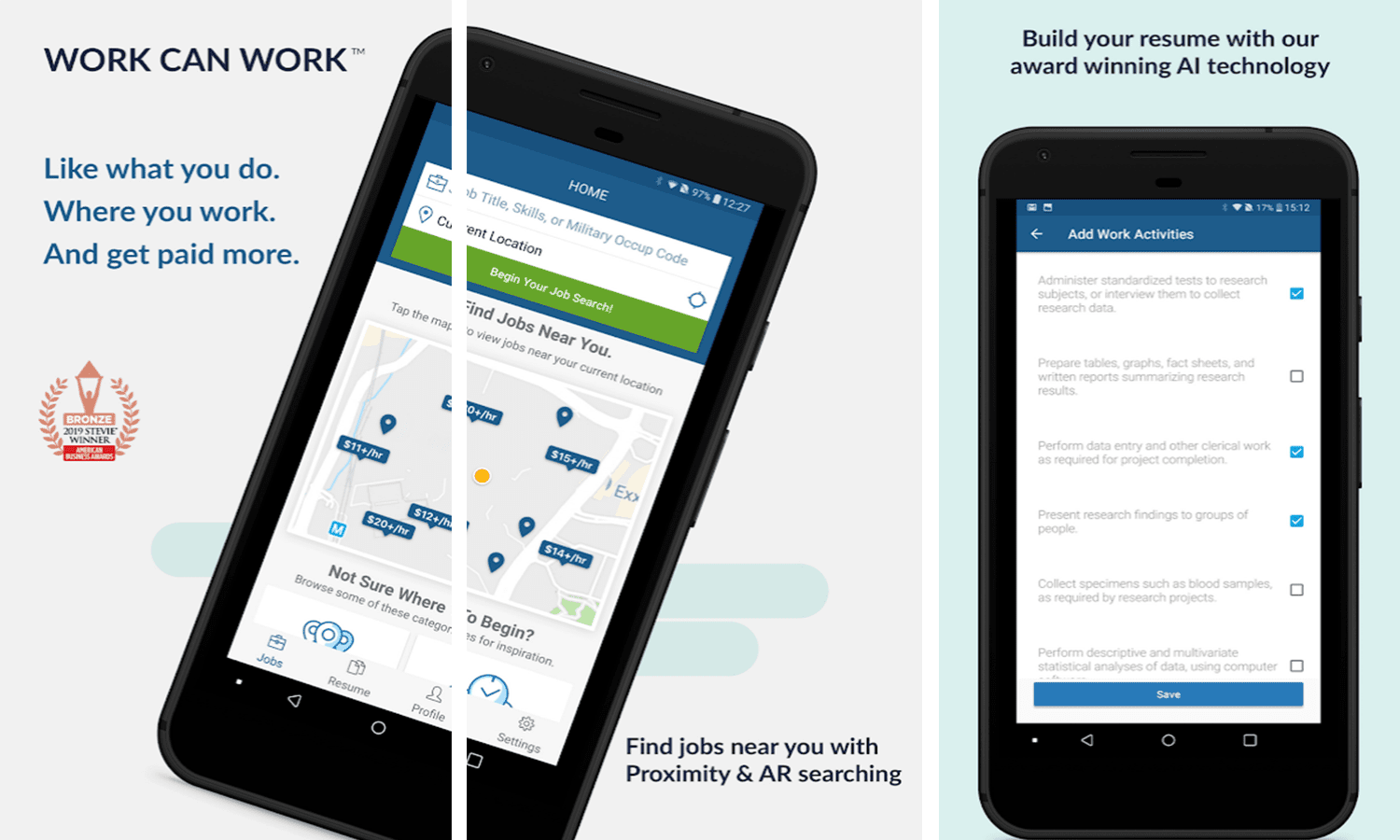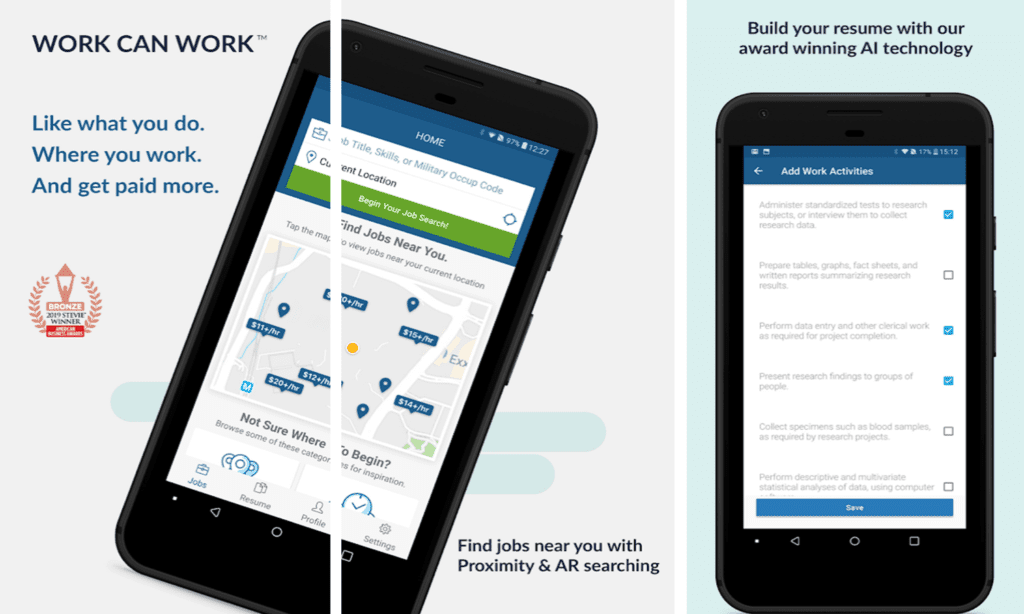 CareerBuilder is another popular job searching app suitable for both newbies and experienced users. The app is easy to use, allows you to check millions of job postings and search by search by salary, experience, qualifications, and education to find the job you like.
The most interesting feature of CreerBuilder is the local job search within a mile of radius from your current location. Simply hold up your mobile vertically and wait a few seconds, the app will show you all the available jobs around you in the augmented reality mode. A nice job search app overall for both employers and job seekers.
Hirewire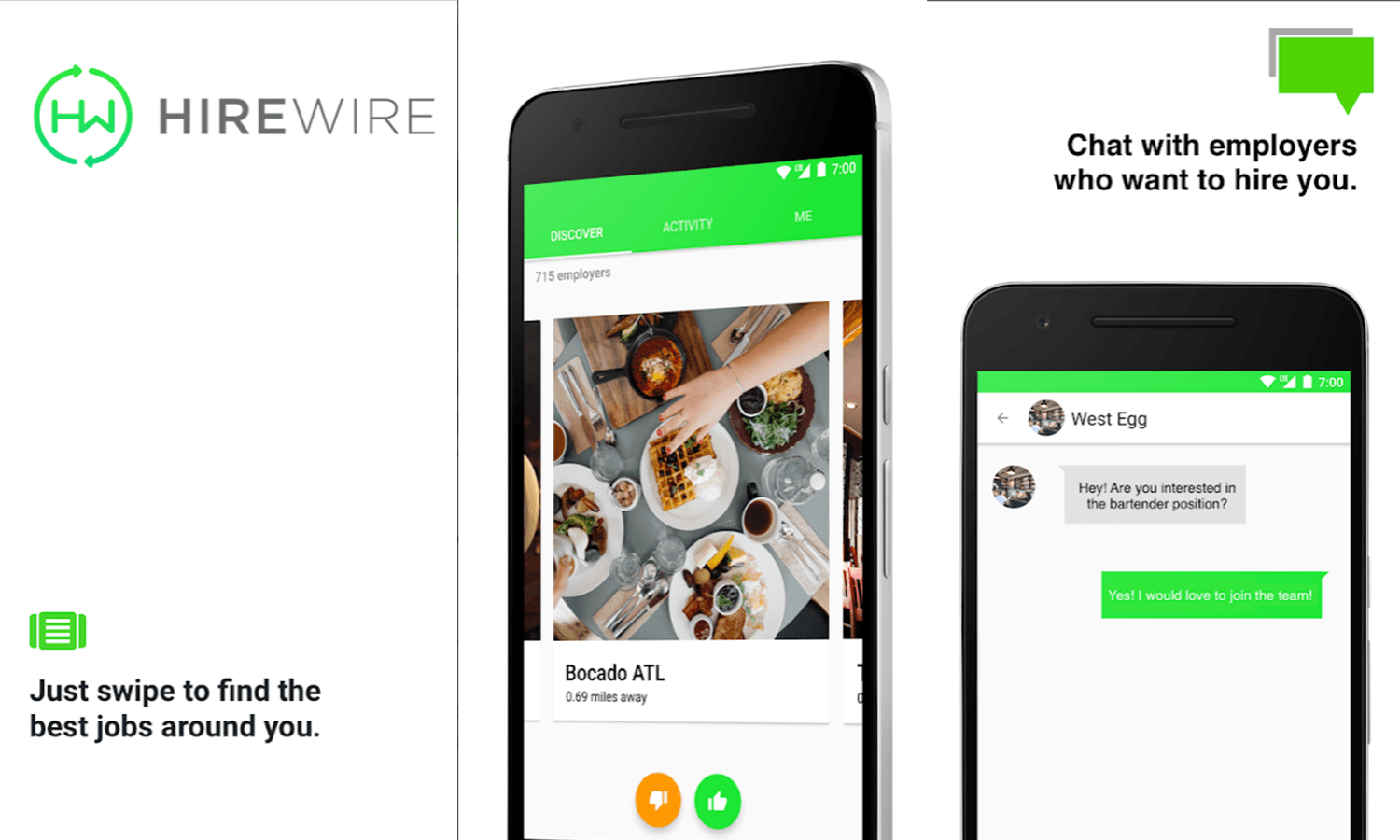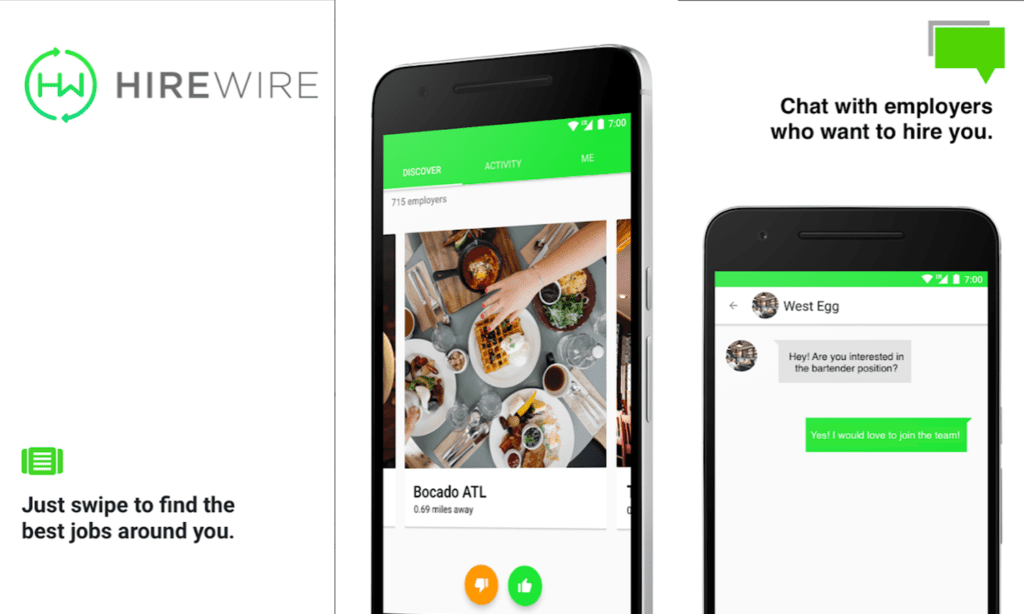 Hirewire is a very useful and effective job searching platform especially for those who are seeking jobs within a very short time! It aims to get you a job within 24 hours. When you're out of having running work and looking for a new job fast, then you should try it first.
Instead of adding a resume like other job apps, it requires creating an interactive, meaningful, and informative profile for employers to check out. As well as, with built-in tools for scheduling interviews and video/ text chat with local business owners, Hirewire is really worth to try out.
Conclusion
I hope, this post would be helpful for you to easily find the job you are seeking. Try the apps above, complete your profile, upload your resume, set up other things rightly, keep applying to your chosen jobs, and be patient. You'll get your job very soon. Best of luck!