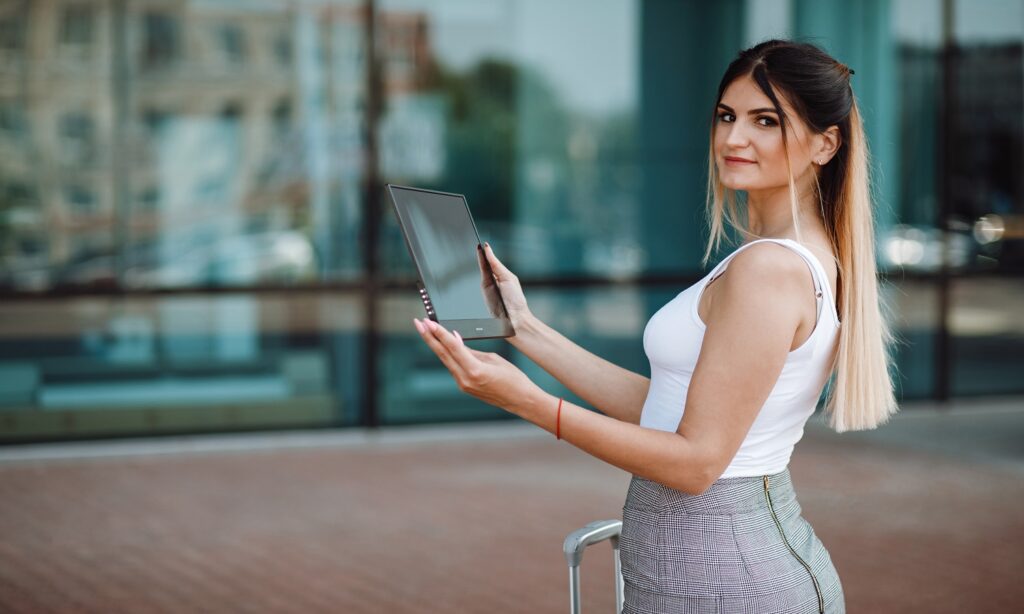 Portable monitors are some of the most valuable innovations in the gaming world. Featuring cutting-edge resolution and solid response time, they help you keep up with the most demanding video games. 
However, some portable monitors are better than others, and Desklab is one of your best options. Let's see what it brings to the table.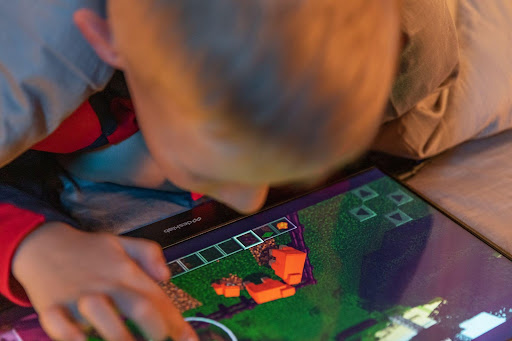 Immersive Resolution and LED Backlighting 
You might not need a 4K resolution for meetings or reading articles online, but it's more than welcome for gaming. This portable monitor's 4K display enhances the visuals of your games with satisfying colors, excellent depth, and solid clarity. Plus, the textures are more realistic to help deliver a fully immersive experience. 
The Desklab display boasts many other impressive qualities, such as LED backlighting. This helps increase the brightness of the gadget, making it ideal both for indoor and outdoor use. The LED bulbs also operate at a low-voltage and low-heat setting to extend the lifespan of the portable monitor. 
Keeping Lag to a Minimum 
Lag can be a huge problem when gaming, especially if your monitor is inadequate. To overcome this issue, Desklab offers a negligible response time of just 10 milliseconds. This feature makes it a good gaming monitor for competitive video games, as it generates motion and images faster. With lag out of the way, you'll be able to focus on your performance.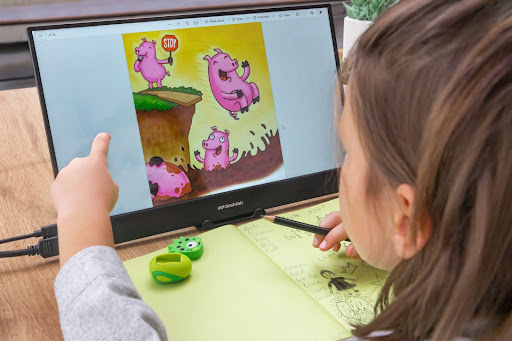 Optimal Refresh Rate 
Another reason this portable monitor works great for gaming is the refresh rate. Standing at 144Hz, allowing the gadget to present more frames of content. The result is a smoother and faster gaming device. 
Easily Portable 
Besides the streamlined display and refresh rate, Desklab also offers premium portability. Weighing 1.3 pounds and featuring minimal thickness (less than 0.35 inches), it takes up minimal space in your laptop case or backpack. Hence, you can game with this travel-friendly gadget virtually anywhere without any issues.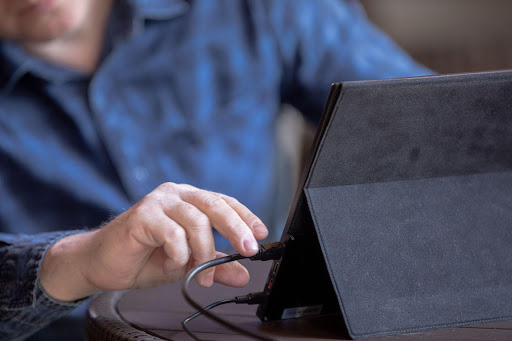 Universally Compatible 
Portable monitors need to support a wide array of devices to improve the gaming experience. The best 4K gaming monitor meets this requirement with its universal compatibility across many gadgets: 
Tablets

Smartphones

Laptops

Desktop computers

Xbox

Nintendo Switch 

PS4 
You need only connect your device with a USB-C port, regardless of the operating system. The versatile product supports all major platforms, including Windows, iOS, and Linux. 
Plug-and-Play Model 
Despite technological breakthroughs, some portable monitors are notoriously difficult to set up. Thankfully, this doesn't hold for the best portable gaming monitor of 2022. 
This is a plug-and-play model that eliminates the need for a laborious setup. You won't have to modify the device or install additional software to ensure a stable link. Just connect your smartphone, tablet, or another gadget with a USB port, and the content will be relayed immediately. 
Integrated Speakers 
Desklab comes with built-in speakers to complement the visual experience. These compact units produce decent audio, meaning you shouldn't need external speakers. If you want to improve the sound quality, feel free to plug in your headphones. 
Magnetic Stand 
Most people use their portable monitors on their desks, and Desklab meets this need with a well-made magnetic kickstand. Sold separately, it supports the device firmly and lets you adjust the angle for comfortable gaming. It also shields the display from chips and cracks. 
Protective Filter 
Gaming is satisfying, but it can also be harmful, especially for your eyes. However, this 4K gaming monitor reduces the risk with an anti-glare, low blue light, and anti-flicker filter. It minimizes eye strain to promote safe gaming sessions. 
Hard to Find Fault With This Portable Monitor 
If you want to rekindle your passion for video games, Desklab might be your best choice. It promises hours of heart-racing action with low response time and ultra-HD 4K resolution. Moreover, it's compatible with nearly any device and boasts a minimalist design. 
For more details about this state-of-the-art portable monitor, visit www.desklabmonitor.com.