Tired of adopting plenty of ways to increase your business productivity? Maybe you are getting upset with the unmanaged business environment?
As a business grows, it becomes complicated to keep everything on track, between instant bookings, rescheduling an appointment, managing customers, cutting down on losses for no shows, etc. Hence, to execute all such activities, a business person requires a fully-functional solution that can manage everything without hassles.  
So, the overall solution to optimally administrate the business is to adopt – The Best Business Scheduling Apps. 
Such appointment scheduling apps help automate the process of scheduling meetings with potential and existing customers. Furthermore, these business apps can go a long way in assisting you to stay oriented and manage all of your commitments. 
The various features of these apps like flexible calendar, automatic email and text reminders, easy customer bookings, alerts, payment integration, and many others. With the availability of these features, a business can expand its presence and reduce errors with an unlimited 24/7 support system. 
These mobile apps can remove the manual, repetitive work associated with managing appointments and allow you to focus on different techniques in order to grow your business further.
Apps for scheduling appointments are effective for a business of any size. Whether you are an owner of a restaurant or salon business, these appointment scheduling apps allow you to embed an interactive booking page right on your website. In fact, some apps also support integration with various social media pages, letting clients book from there any time. 
As per the expectation, the total revenue will reach 935.2 billion as per Statista, which is a large perceptible representation of the app user growth rate by 2023.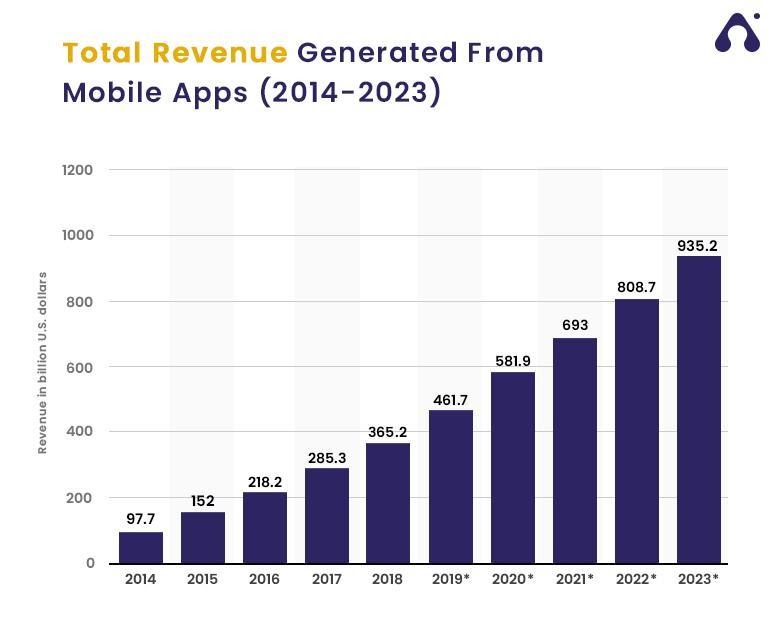 The above fact shows that the business mobile app industry is growing rapidly with time and able to bring more revenue. Similarly, adopting an appointment scheduling mobile app for business will definitely become a game-changer platform for earning money. 
But, which appointment scheduling app is best suited for your business?  To find the answer, let's have a look at the following guide. So, let's get started.
10 Best Business Appointment Scheduling Apps
Salonist appointment scheduling app allows customers to book, reschedule, and cancel appointments seamlessly through iPhone, iPad, tablets, and Android smartphones. This robust mobile app is for businesses like Barbershops, Nail Salons, Hair Salons, Spa, Bridal Salons, Massage Therapy, Medical Spa Software, and Aesthetic Skin clinics. The app also provides flexibility to streamline communication, centralize payments, and manage your staff. It simply gives customers a list of available times when they can come in for treatment, meeting, or other services.
Features:
Manage and synchronise appointments

A proper Inventory Management System

Handle customers' texts and emails

Calendar scheduling

Convenient payment mode options

Coupons and loyalty programs
SimpleBook.me is a simple appointment scheduling app for creating a simple booking page for customers according to the availability of time. On the same screen, a business owner can set up different types of appointments, customize reminder messages, appointment duration, cancellation policy, and many others. This is counted as the best appointment booking app for international business, which is available in 32 languages. It also offers various payment processing options.
Features:
Appointment management

Automated scheduling

Customizable service catalogue

Email/SMS invitations and reminders

Convenient payment options
Acuity Scheduling is another appointment scheduling app to customize your booking process to a fine point. Furthermore, it also allows customers to reschedule or cancel appointments conveniently. The tools enable you to send customized confirmation and reminders regarding appointments. Various supported payment systems of this app are Paypal, Square, or Stripe. 
Features:
Organize Appointment Scheduling

Manage customer information

Coupons and gift card management

24/7 customer support

Notifications regarding schedules and attendance
Calendar appointment scheduling mobile app assists the business owners to manage your team. Through a smart scheduling link of Calendar, everyone can automate their scheduling. The app is featured with an AI-enabled digital calendar, scheduling, and time management solution for individuals and teams. The digital calendar sync over all devices as well as a virtual assistant to handle meetings, invitations, and scheduling changes. 
Features:
Real-time confirmation

Automated review requests

Booking reminders available

Automated replies with AI receptionists
Appointment booking app Genbook designed to optimize schedule, bookings, and cancellation.  It can automatically replenish your empty and expiring appointment slots with returning customers by awarding last-minute discounts. By blocking the calendar, you can indicate that you are offline. You can also create a priority reservation window for waitlist customers. Customers can also schedule their appointments through various Facebook, and Instagram also. 
Features:
Automated Calendar Sync

Manage and synchronise appointments

Recurring Appointments

Appointment Reminders
Setmore supports a combination with more than 35 apps, including Zendesk, QuickBooks, Zoho CRM, Mailchimp, and Salesforce. Setmore's appointment booking features are intuitive, which send reminders to both customers and employees regarding the appointment. The dashboard displays weekly appointments, total estimated revenue, automated email reminders, staff logins and calendars, and many others.
Features:
Customizable SMS Reminders

Recurring Appointments

Callback feature

Customized payment methods

Manage and synchronise appointments
The free version of Calendly lets you schedule unlimited meetings, connect your calendar, create a custom Calendly link, send automatic reminders, and many more. On the other hand, the paid version of Calendly accommodates multiple meeting types like one-on-one, round-robin, collective, and group meetings. The app provides insights on metrics and reporting also.
Features:
Buffer time between meetings

Automatic email notifications

Team availability dashboard

Unlimited event types

Reporting & statistics
GigaBook is an intelligent appointment scheduling app that can aggregate all the data and feedback you need in the same place to assess the situation. It can smartly manage your time. Furthermore, it is extremely adaptable, enabling you to determine the staff, room, and equipment required for every appointment.
Features:
Project management tools and to-do lists

Provides customized reports

Sync personal calendars from Google, Office365, and Outlook

Integrated payment platform
Checkfront is a smart appointment scheduling app that is featured with a "Business Intelligence". The apps can easily track and monitor sales and marketing data so that you can optimize your business accordingly for maximum output. It also helps you manage your bookings and resources all in one place. You can also add your inventory, set availability, create pricing rules, and connect Checkfront to your business in a matter of minutes.
Features:
Check-in with QR scanning on mobile

Automated customer outreach

Payment processing

Customizable receipts

Reporting & analytics

Automated billing & invoicing
piLOBi is the best appointment scheduling app whether you have a small enterprise or large business. The app is suitable and effective for saving time and resources. It offers your business an overabundance of features to use effectively. The app is simple, secure, & offers a robust solution for managing a business. You can easily book your appointments. 
Features:
Quick and easy visitor check-in

Real-time host notification

Multi-location management

Smart and secure
Bottom Line
After knowing about different business scheduling apps, it becomes easier to choose one according to your business requirements. Whether you are running a small or large organization, it is worth paying attention to budget constraints, so you can pick up one accordingly. Using such fully-featured appointment apps can also cut down the no-shows and late cancellations. With a simple and easy to use schedule, you can conjecture what to concentrate on to give your business a new turn.
Author Bio
:
Zin Lang Liu is associated with Salonist, a smart
nail salon management software
for all types of beauty wellness industries. She assists business owners on how to grow their business through fully featured software.