There are a lot of users who want to repair corrupted OLM file due to many reasons. Outlook stores the data of a user in PST file format and Outlook for Mac stores the data in OLM file format. OLM files contain all the important information of a database such as email messages, address book, calendar, journals, to do list, and many more. Only Mac Outlook 2011, 2016 email client use the OLM file and is not accessible by Windows Outlook version.
The reasons for corruption of OLM files are less due to security issues and more due to other reasons like server crash, poor network quality etc. These issues lead to users searching for solution to recover OLM file. The common reasons for corruption are given in this blog. To check these out, read further and get the best solutions to repair your OLM files' corruption issue. 
Common Reasons to Repair Corrupted OLM File
Due to the corruption of OLM files, there are chances that you may lose your valuable data. Following are the reasons for corruption in OLM files:
The OLM file is oversized

A virus has attacked on the computer

The shutdown process may have not done properly

In case your hardware has failed, your OLM files can get damaged

If there are any issues related to software can also cause OLM corruption

Errors made by humans
Solutions to Recover OLM File
There are various manual solutions to repair the files that we are going to mention here. Although, the manual methods are time-consuming and do not guarantee not making any changes in the data or data loss. There is also a sure shot solution for you to keep your database intact without any hassle and saves a lot of time. You will learn more about this solution in details later in the blog. Let's learn the manual methods first.
Method 1 – Change the OLM Sync Services Preference to Recover OLM File
Follow the steps to disable sync services preferences:
Open Outlook in your system and click on

"Preferences"

from Outlook menu.

You will find a

"Sync Services"

option under the

"Other"

options.

Unmark all the check boxes and close

"Outlook".

Check if the error is solved by restarting Outlook.
Method 2 – Update Mac Outlook to Repair Corrupted OLM File
If the above method doesn't work, you can check for updates in Mac Outlook by following the steps given below:
Launch Outlook and go to

"Settings"

menu.

Check if there are any updates available.

If you find any update, download and install Outlook updates.

Check whether the update has fixed the issue by restarting the application.
Method 3 – Use MS Database Utility to Recover OLM File
There is a utility provided by Microsoft for Outlook files corruption issue. Follow the steps below to check out how to use it:
First of all, go to the

"Location"

and move towards

"Applications"

from there.

Now, go for the

"Microsoft Office 2011"

option and choose

"Office".

There you will find the

"Microsoft Database Utility".

Open it.

This utility will scan all the problems in OLM and fix them.
The above given methods can help you do the needed and help you to get rid of the corruption issues. But it is not certain how long these methods will take and if the data is secure or not. This is why, it is recommended to you that you use a third-party tool which can fix all the corruption issues in the nick of time and give you all the benefits of being stress-free. 
Sure-Shot Solution to Repair Corrupted OLM File
The solution that we are talking about is the tool to Rebuild Mac Outlook Database which can easily recover OLM/OLK files and keeps the data integrity intact. You can use this tool with ease as it has simple steps and doesn't require any kind of technical knowledge. The tool offers a few features to help you understand it better as follows:
Offers an option to manually locate OLM files

Restores mails, contacts, calendars, notes, and tasks

Repair the corrupted files in more than 9 different formats

Filters provided for selective data recovery

Support Mac OS 10.8, 10.9, 10.10, 10.11, 10.12, 10.13, 10.14, and 10.15 versions
Let's move forward to the working of this tool.
How to Recover OLM Files?
Follow the steps to overcome the issue of corruption in OLM files:
1)  Launch the tool and mark the radio button beside "Browse Mac Outlook Archive (.olm) File(s)".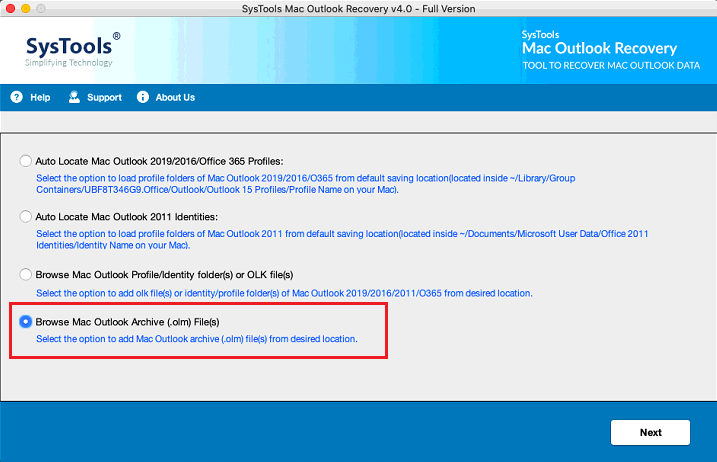 2) Now, choose the "Add File(s)" option and browse for the file(s) you want to recover and hit "Open".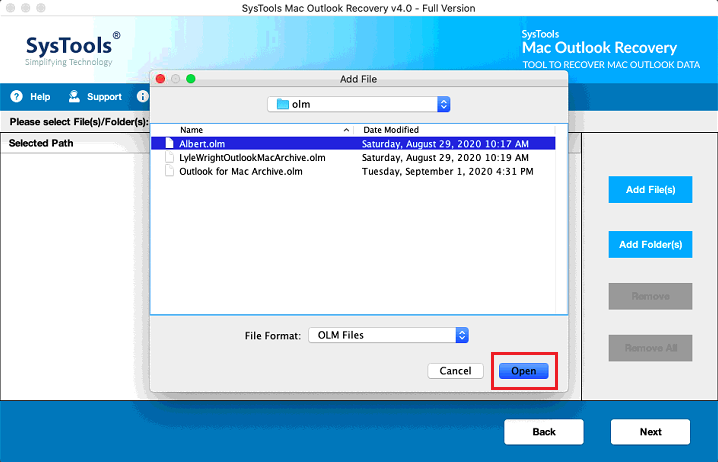 3) Next, you have to choose the file format as "PST" and apply the filters. 
Note: You can choose whichever file format you want from the list.
1) Click on the "Change" button to navigate the file(s) to a destination location and hit "OK".
2) At last, click on the "Export" button and your file(s) will start exporting to PST and repair corrupted OLM files.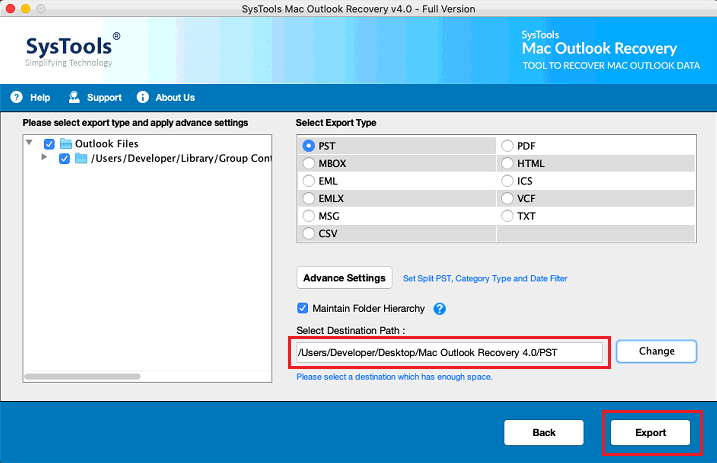 After the process is completed, you can also see the export report by choosing the "View Report" option. The tool provides an option to keep the folder structure same which is the "Maintain Folder Hierarchy" option. The filters provided by the tool are as follows:
Category-based – To mark which all items you want to export.

Date-based – For exporting selective data from a certain time period. 
Final Say
In order to recover OLM file, you can follow any one of the methods as mentioned before. The manual methods work well but are slow and sometimes modify or lose the data. You can always rely on the third-party tool that we have brought to you. It makes it easier for you to be able to recover you data in a very short time period. You should go for the tool in case you do not wish to damage your Outlook database during the recovery.