Hey after many times I come back with a new article. I think this time you are looking to download MX Player for pc.
If yes then this article is for you. Just continue with this article and learn how to download and install MX Player for your Windows 7/8/10 pc.
Without wasting your time let's come to the point. So basically here you can find a total of three sections you can directly jump into the section which you want to read.
What is MX Player?
How to Install MX Player on PC? (Windows 7/8/10)
Install MX Player on Mac PC
App Features
Conclusion
So first let's discuss what is MX Player for that person who doesn't know what MX Player is? If you already know what is it then you can skip this section.
What is MX Player?
I think you got an overview of this app by reading the app name. MX Player is one of the best and very famous video players all over the world.
With this app, you can watch the video in your phone and this app support nearly all video extension.
This app is most popular for his great feature. Later in this article, I discussed all the major features of the MX player.
At this time this app is only available for Android users. But the alternative HD Streamz available on pc.
The developer has also launched this app into the window store but for some reason, this app is not available into the windows store.
Now you think that if this is not available for windows users then how can I use MX player into my windows pc.
So just continue with this article because here I discussed a method to use MX player into pc.
How to Install MX Player on PC? (Windows 7/8/10)
As I discussed there is not any version of MX player available for windows users.
So you need to follow this step to download and install MX Player into your Windows 7/8/10 pc.
Let's get started:
First, you need to download this app apk file into your computer. Here you can download it from the below link or you can copy the apk file of MX player from your mobile phone.
Once you download MX Player apk into your computer then we need any android emulator to run this apk into our computer.
Here you can download and use any good android emulator but I recommend that you go with Bluestacks.
To download Bluestacks just click on the below download link:
Once you download Bluestacks into your computer just double click o it and install it into your computer.
Now here are two ways to install MX Player into your android
The first is that download MX Player Apk. Once it downloads just double-click on it and installs it on your Android emulator.
Second is that open your android emulator (Here is Bluestacks) and sign in with your Gmail
Now open Play store and search for the 'MX Player' and once you find just click on the install button and install it into your windows pc.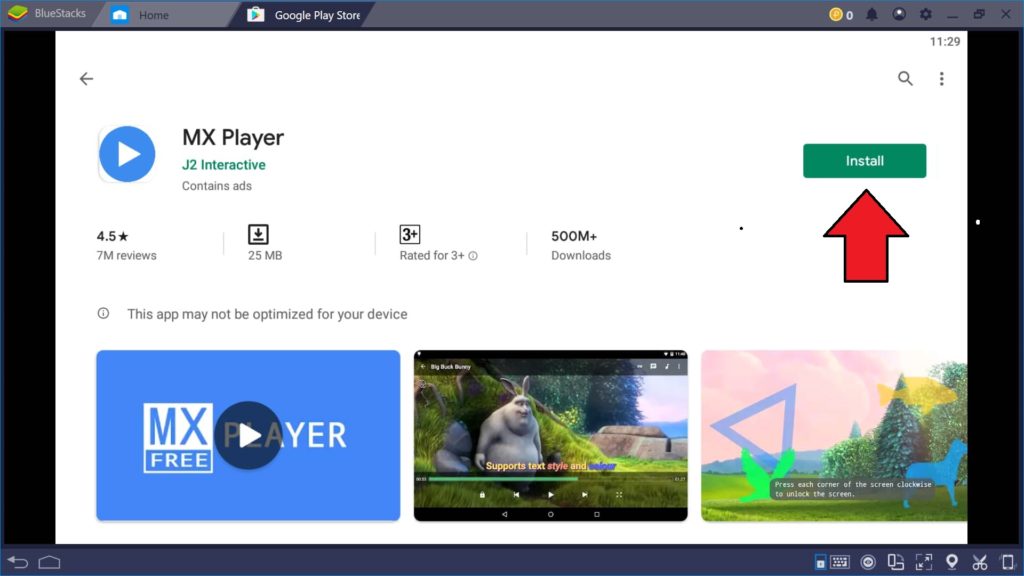 Now you can use MX Player as a video player in your pc.
So, this is the complete process to download and install MX Player into the Windows 7/8/10 pc.
Install MX Player on Mac PC
Hey, if you are the mac user and if you want to install this app on your Mac machine then the process will be the same.
The only first step will be different because we need the mac version of the bluestacks app.
So, download the mac version of the bluestacks from his official website or the mac store.
If you face any issue in the installation of this app on the mac pc then let me know in the comment box.
Before you go, I highly recommend you that you must read MX Player features to get an understanding of this app.
App Features
There are too many features of MX Player but here I discuss a few and main features of the MX Player.
So, let's get started:
First thing is that in the new version of MX Player if you have an internet connection then you can watch online videos.
The second feature is subtitle support. Yes, you can add your subtitle file into any video and enjoy that video.
Another feature of MX Payer is that you can increase audio up to 200%. But in full volume, the speaker doesn't work well.
Now it depends on you that you want to use it or not but it's damage our ear if you are watching videos with earphones.
Another feature is that this app supports nearly all video extension so you never get an error that video is not supported.
The MX Player has a very good imputation of pause, stop previous, next buttons, and also you can customize this button according to your requirements.
Another great feature is that you can customize this app according to your requirement so you never tired while you are watching videos on MX player.
And there are also too many good features that are available into the MX Player which you can identify once you start using this app.
Conclusion
I hope you like this article and don't forget to share it on your social media.
And if have you any questions or getting any error during the installation of MX Player you can ask it into the comment box.
Also please share this article on your social media and with your Whatsapp groups. So, your friend can also download and install this app on his windows or mac pc
Author bio:
Vicky Sharma a professional app developer, tech author, and writer who talks about technology. His expertise is in software, mobile apps, and games running and operating on operating systems like Windows and Mac. He is running his blog name apkjon where he helped people to solve their tech problems.
Social Media:
Facebook: https://www.facebook.com/gupdates00
Twitter: https://twitter.com/PCIUM1